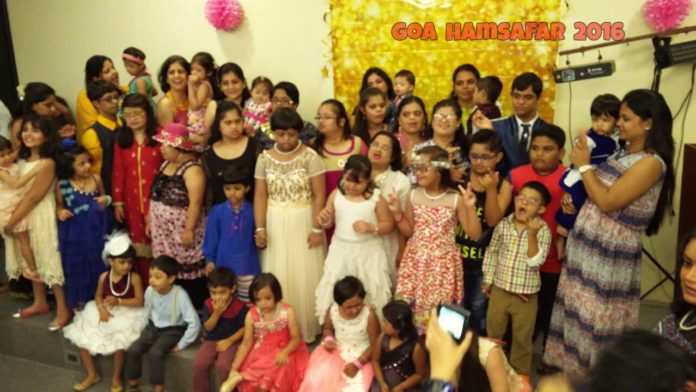 45 families…Goa…fun and Down syndrome! It is amazing to use all these words in one sentence! When three months ago, in one of our whatsapp group chats we thought of meeting each other, the idea seemed a little implausible because one, it has never happened in India before that the families of children with Down syndrome have met in such a large group for fun and two, we were from all different parts of India and anybody who knows a little geography can tell it wasn't easy for that to happen…BUT WE MADE IT HAPPEN!
It was impromptu but it was with all the heart that the families started to agree… what started with 20 families soon turned into a big holiday with about 45 families and the best part was that most of us were meeting for the first time. We've been with each other through Whatsapp but meeting everyone for the first time was something we all soon really looking forward to.
Planning this seemingly easy program wasn't easy! But planning the destination was quick; we all knew where we wanted to go, the most fun destination in India… GOA! The organisation, finding the right hotel, booking and coordinating was an uphill task but we had these beautiful mothers who took it all in their very capable hands and made this possible! A big shout out to Shweta, Roshni and Shivangi!
One thing we all agreed upon was to have a common objective to this holiday and that was to have 'FUN!' It was a holiday and not a workshop on Down syndrome. It was going to be a celebration of our children and of the parents and we all agreed on this fantastic idea 🙂
Reaching Goa and meeting all the families was surreal. So many beautiful souls at one place that the energy of the place was over flowing with positivity! What with our kiddos hugging, smiling and having a good time with their new friends.
The activities made everyone enjoy to the fullest. The games, the pool time, the rehearsals, the fashion show, the talent hunt, the dances, the mothers' and the fathers' fashion walk, the DJ night, the yoga, the sand castles on the beach and above all the genuine warmth, concern and the unconditional support from the senior parents made this holiday so different and wonderful in so many ways! And since the entire hotel was booked by us parents, the kids had a gala time running around everywhere and being always taken care of by somebody's parents. The siblings got along, the fathers played in the pool and the mothers chatted away peacefully without having to run after the kiddos all the time since the whole area was filled with sensitive souls!
Dr. Rekha and Dr. Nina were the torch bearers and the mothers of all mothers. All of us felt so much at home and almost like we were in company of long lost friends. Seeing adults with Down syndrome, too was an experience which gave strength to many new parents and will continue to do so.
Also read: Why You Should Be Friends With Other Special Needs Mothers
I am blessed to be a part of this wonderful family. I loved meeting these absolutely beautiful people who I would've not met otherwise. This meet was comforting to each one of us on many levels. As parents of children with special needs it is important to have a place and people who we can call whenever we want to and this group has given all of us this assurance that we all are in it together and we are going to hold each others' hands in this beautiful journey called life!
Here are some more moments of bliss, fun and laughter…
Somebody has rightly said, "you wouldn't understand the unabashed power of a community until you are part of one" and I have no doubt that coming together of our Down syndrome community is going to make things happen!
Love
Comments
comments