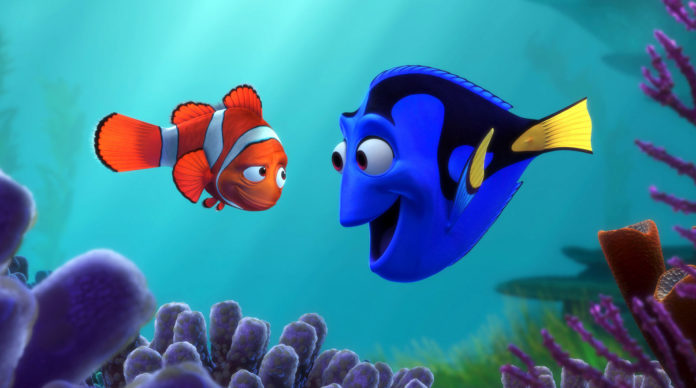 Who doesn't like movies? Movies make us forget the troubles and help us indulge into the dreamland, where there are picturesque castles, flying animals, and talking birds! Oh how we all love to wander alone on the new journeys, take revenge with the bad guys and dance around in rains, go underwater or travel in high-speed trains, see the snow, get frozen and let it all go! It is absolutely same with our children too; Typical or special needs. Films help them give the power of imagination and the opportunity to see the things they wouldn't see otherwise, a Dinosaur, a Mammoth or a flying house are good examples.
Before I go further in the post, I would like to clarify that these movies are not specially made for children with special needs and can definitely be enjoyed by all but the criteria for selecting the movies was mainly on their simple story, great graphic effects and their not so difficult subplots for easy comprehension. Also, a small survey with the parents of children with special needs helped and the movies below are suggested mostly for children between 4 and 12 years of age and are in no particular order.
Here we go
1. Finding Nemo (2002):
After his son is captured in the Great Barrier Reef and taken to Sydney, a timid clownfish sets out on a journey to bring him home. This movie is marvellous with eye-popping colours. It's brilliantly done animation have lots of humorous scenes that actually work and a plot that really brings tears to your eyes from time to time. It seems fair to assume that for years, we'll all still be saying: "Just keep swimming!" The first time when my daughter saw the underwater world, she was mesmerised and I can still recall her wide almond eyes fascinated with all the colours and beautiful underwater scenery in the movie and since there are not many characters and complicated story line, it is pretty easy to follow for our children.
My Rating: ★★★★★
2. Babe (1995):
Parents need to know that this live-action farm tale is widely considered one of the best family films of all time. The story is about a farm pig who wants to become a sheep dog, which is pretty strange considering a pig's place is in people's plates. But Babe has something the sheep dogs don't have: gallantry, kindness, determination and good intentions which make him a truly unique person, one that stands out from his peers, proving that no matter who you are, you can make a difference, which is a great lesson for all our children. It might look a little ancient by today's animation standards, but it's lovely and warm.
My Rating: ★★★★½
3.

Frozen

(2013):

There are no words to explain this highest grossing animation movie of all times. It is a stunning big-screen comedy adventure where Fearless optimist Anna sets off on an epic journey teaming up with rugged mountain man Kristoff and his loyal reindeer Sven-to find her sister Elsa, whose icy powers have trapped the kingdom of Arendelle in eternal winter. The beautiful and breathtaking special effects and melodious songs have made it a rage among kids of all ages. The best part about this movie is that it is not just for kids, I loved watching it as much and have watched it several times with my daughter. Few other parents too have vouched for this movie and have shared how its song' let it go' has become like an anthem among their young girls.
My Rating: ★★★★★
Also read: What Does It Really Take To Accept A Child With Special Needs?
4. Home

Alone

(1990):
Home Alone is the highly successful and beloved family comedy about a young boy named Kevin (Macaulay Culkin) who is accidentally left behind when his family takes off for a vacation in France over the holiday season. Kevin soon finds himself face to face with two burglars in his home and the fun follows. The film's comedy is pretty cliché but who doesn't like it in a kid's movie. The funny falls, the bad guys getting beaten and the spirit of Christmas all around makes it a great movie to watch with the whole family. We have always loved watching this film when we are not able to decide on something else. This is an all time favourite and the kids are going to love it no matter what.
My Rating: ★★★★½
5. Kung- Fu- Panda (2008):
A clumsy panda bear becomes an unlikely kung fu hero when a treacherous enemy spreads chaos throughout the countryside in this animated martial arts adventure. This movie is hilarious from the word go and I have shared many laughs watching this funny, ever hungry super cute panda and his intense martial art training! Young boys would love this. Strongly recommended.
My Rating: ★★★★☆
6.

Ice Age

(2002):
A wooly mammoth, a saber-toothed tiger and a sloth unite to return a human baby to his tribe and what follows is the marvellously funny, witty and silly adventure of the trio. It is amusing in its own way and the whole family is going to have some great laughs watching the prehistoric animals and their action-filled journey. The best part about this movie is that unlike other likeable animation movies that you immediately fall in love with, this one quietly sneaks up on you and wins you over. My daughter loved the sloth the most and she has had some great evenings watching it with her cousins.
My Ratings: ★★★★☆
7.

Jurrasic Park

(1993):
Who doesn't love the vintage 'Jurrasic park' and the dinosaurs in it? I remember my elder one going crazy about anything and everything that even remotely resembled a dinosaur. I was a little cautious showing it to my daughter who I thought might get a little scared with those enormous animals, but she absolutely enjoyed every bit of it. in fact a lot of parents of children with special needs have shared the love of this movie among their kiddos so I can safely vouch for this brilliant Steven Spielberg movie and its adventure filled story.
Note: This movie is more appropriate for children between 9-12 years of age.
My Ratings: ★★★★½
8.

Monster Inc

(2001):
This film is an absolute delight to watch. A monster is scared of a little girl and a hilarious and emotional drama ensues when he has to save her from other human-fearing monsters. The monster is super cute and extremely lovable and the kids would love its antics. We have a recording of this movie and a modified book on it and that should explain how much my daughter and I enjoy the movie. A must watch.
My Ratings: ★★★★☆
9. Bolt

(2008):
Thanks to his role in a hit television show, Bolt the pup, believes he really possesses the super powers! The film is a series of hilarious and action filled adventures when the pup embarks on a cross-country quest to get back to his owner Penny. My daughter used to love this movie because of the super funny hamster friend of the pup. It is still one of her favourite and if your kids don't get too affected with little fight scenes then they are going to love this super cute story.
My Ratings: ★★★★☆
10.

Matilda

(1996):
Based on a Roald Dahl novel, this movie is utterly fantastic! When a nasty head teacher' Miss Trunchbull' bullies students and an innocent teacher, Matilda fights back with her telekinetic powers. The inherent ' good over evil' concept warms your heart every time the head teacher gets it. Life as a child is fantastic and happy and exciting and scary. And in Matilda we see all elements of childhood shine through by the intentionally ridiculous, over-the-top performances and that is what gives this film an edge over others. A must watch and definitely a treat for kids above 5-6 years of age.
My Ratings: ★★★★½
Of course, there are many more great movies to watch and everybody would have their own list to share. My list is made up of the movies which are not too ancient ( I would've loved to include 'Mary Poppins', 'Wizard of Oz', and few others. Also, there are some other movies like 'Willy Wonka And The Chocolate Factory', 'Up', 'Cloudy With A Chance Of Meatballs', 'Wreck-It Ralph, 'The Croods' and 'The Toy Story' but I have tried to include those that have been enjoyed most by my daughter, who happens to have Down syndrome and few other children with special needs (as suggested by their parents). Hope you'd like the list and would share more movies that you have liked watching with your precious littles.
Thanks in advance for sharing
Image Source
Imgkid.com, 
Fanpop.com, pixshark.com
Comments
comments