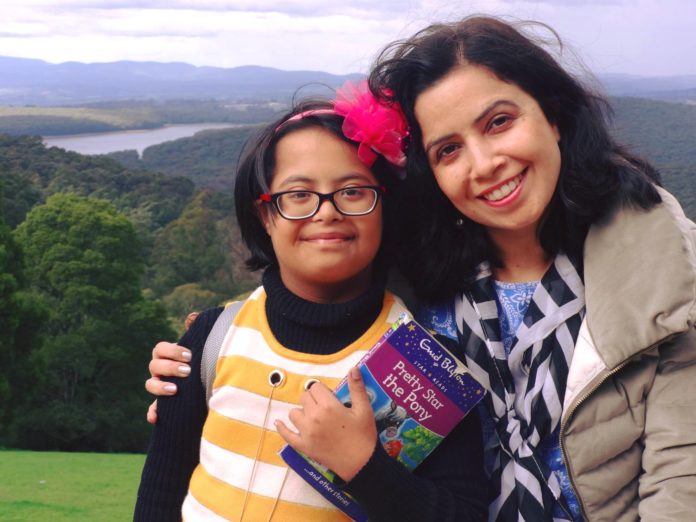 This post is special for many reasons! This post is special because it is about the shared journey of mothers of children with Down syndrome across continents.
It is special because it is about sharing the universal feelings of love, care and concern for those, who we keep in our hearts for life i.e our special children.
It is special because it is about a dream that made two very strong women stepping out of their comfort zones and creating something beautiful that the world is proud of.
"This post is about mothers who challenged the notions of abilities and are making this world a better place not just for their own children but for thousands of others!"
This post is also about my travel to Melbourne, Australia for the screening of our special little documentary 'Raising The Bar', celebrating the beauty and similarities of two vastly different continents through the personal stories of families living with Down syndrome.
It was exciting yet nerve-racking for two mothers with their two daughters from India to go on this journey to meet their counterparts on a different continent and making beautiful memories along the way.
For you to appreciate the whole picture, I'll have to give you a little background here. No, we don't need to go in black and white setting because it all started about 8 years ago. A young mother 'Cate Sayers' opened a dance school in Melbourne for children with Down syndrome because she was unable to find an appropriate dance class to meet the learning needs of her daughter Alexandra, who has Down syndrome.
Word quickly spread about the dance program, and soon families were travelling from all over Melbourne and country Victoria to attend the weekly classes!
Soon enough, this group was performing all over Australia at all events that mattered. The idea of this documentary germinated in Cate's mind when she brought her whole group of about 50 people to World Down Syndrome Congress in Chennai, India! The interaction and feeling of commonness across all parents made her think about making something that celebrates the journey of families of children with Down syndrome, irrespective of where they live.
She was joined in this adventure by another beautiful mother, Mitu Bhowmick Lange, who has a vivacious little 3 year old with DS. Together, both these women dreamt about making something that will help change people's perception about special needs and their abilities. And as they say, when there is a will, there is a way! Onir, a national award winning director, heard about the cause and whole-heartedly agreed to shape this dream into a reality!
So, coming back to the present, this little documentary is ready and is already winning the hearts of thousands of people and accolades in many festivals. And we were invited to see it first hand with all the other families who featured in it! Here is a little trailer for you all to see. And I can't wait to hear how you like it?
Here is Our Trailer
To say it was a profound experience would still be an under-statement!  people I had never met, came and told me how they were touched by the documentary and termed it as an 'Awakening!'
But this post is not just about our film. It is more than that! It is about the combined experience of meeting strangers on the flight, airport, trains, trams, on the road who went out-of-the-way to help!
The people who were so different socially and culturally yet so similar emotionally.  The intense and over-whelming experience of strangers being extra nice to my daughter with Down syndrome; laughing with her, sharing jokes with her and treating her with respect and love!
Also read: What Does It Really Take To Accept A Child With Special Needs?
It is about meeting Cate sayers, who held our hands and our hearts with her unconditional love and concern. This is for all the teachers who not only shared their best practices but also allowed us to observe a few classes.
This is also for all those beautiful families who organised a little lunch party for us and who drove in rain to spend a few moments with us. Above all, It is surely for these young girls, letting go of their lunch break to show solidarity with their class-mate who they love dearly. It is about sincere efforts and intentions!
It was such a humane experience and I urge all the parents to go out and travel with your children of special needs. There are still good people around! No matter what news channel tell us, an average person on the road will still smile back if you smile at him!
It is difficult to express the over whelming emotions in words, which is why I am sharing some great moments of our time there through pictures and I hope you'd enjoy seeing them as much as I am loving sharing them.
Also, none of this would've been possible without Dr. Rekha Ramachandran! It could happen because she made India visible in the World Down Syndrome community and made sure that we all parents met! She was the one who didn't hesitate in facilitating this visit for us and in spite of not being in the best of the health, flew there to be with us. Her mother like care made sure that we visited local touristy places and ate some innovative food like 'chocolate strawberry pasta' there! Her funny one liners and jokes helped us unwind at the end of the days! She surely recharged our energies and made this trip even more memorable!
In the end, I would like you to spare a minute and look at these beautiful girls and promise in your heart that you'd do everything to help create a more just and equal world for them and for every person who may not be able to demand for it but deserve it as much!
Love
Comments
comments