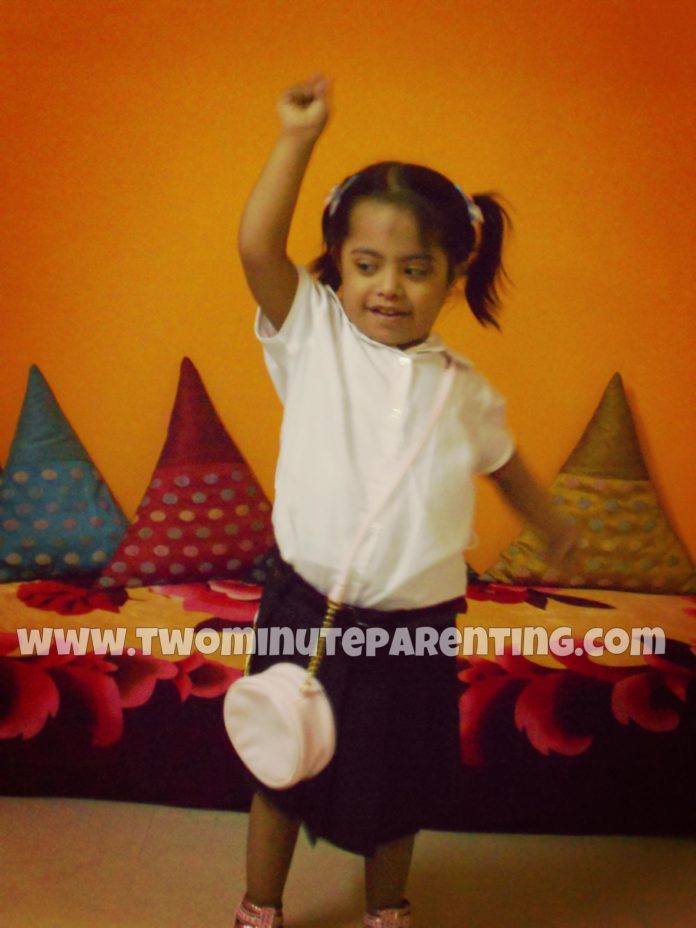 There are certain incidents in life that you never forget. And for a mother of a child with special needs such incidents are more than many. The milestones that were hard to come, the news of the diagnosis, the night when the true acceptance found its way, the first smile, that argument with the doctor, those meetings with the school people and many more. When we ponder on a few incidents we may think about handling certain things differently and then there are those few where when you look back you feel proud that you did what you believed in.
Today, I want to share this incident again with you all  because that experience gave me strength to dream and hope and I truly believe it will give you some too.
It happened in October 2011.  Aarshia came back from her play school with an extra bag and a note. It read  'She is going to be performing in one of our school's functions. Please make sure the dress fits.'  I read the note again and it said the same thing. She was going to be performing, and that was it! I went completely ecstatic! This was going to be the first time when my sweet pie would be on a stage, performing live! and people told me children with Down syndrome would not talk, go to a school and not do thousand other things. My daughter is going to be dancing! I was going happy crazy in my head.
The dress was perfect, of a flower. Her head came out of the middle and it had beautiful pink petals. She Looked angelic and we couldn't have had enough of that evening when the entire house was busy being happy!  'Little did we know that we were going to experience exact opposite emotions soon enough' I called  my husband's and my parents, shared the news and told them all to reach the venue on time. I also met with the teacher next day asking, if I could be of any help with the steps and all, she told me to relax, but I couldn't, how could I?
The day arrived after a very long wait and we all reached and grabbed front seats to see her performing. Hers' was the fourth act. We all were waiting with baited breath. I exchanged glances with my husband when the announcement of her song was made, he was smiling.
Soon the children started coming on the stage while a beautiful song was being played in the background. It was a jungle song where every other kid from her class wore outfits of a tribe, children were looking colourful and the whole stage was filled with the overdose of energy but my eyes were looking for my angel, I couldn't find her. After a few seconds a teacher came out with her and another child with cerebral palsy and made them sit in the corner! Every kid was dancing! each one except for Aarshia and this other child with cerebral palsy. They both were made to sit in the corner of the stage like vegetables or I should say 'flowers' doing NOTHING!
While everybody else on the stage was dancing, they were just sitting there! I looked at my husband's face, he was hurt. I couldn't gather the courage to look into the grandparents' eyes. It felt like a big blow on my heart and soul.
I lost it completely.  Don't know what came over me but I could hardly wait for that atrocity to be over. I picked her up from the stage and came back home hysterically crying. Don't know what was it? The anger, the hurt, deceit or not so great expectations of teachers from Aarshia, but this shouldn't have happened. They didn't even try!
We didn't sleep that night. Since the day, when I was told about Aarshia's diagnosis, this was the second time I had cried this much. But by the time, the sun came out, I was ready to fight for my girl!
On reaching the school at 9 next morning, I demanded to see the principal at once. The teacher came to talk about last night but I refused to speak to her unless I had spoken to the principal or the management and I did. I talked to them rather brutally, gave them not just the piece of my mind but pretty much all of it. I told them firmly that I had expected them to be a little sensitive, but if they thought that I could be fooled into believing that Aarshia was privileged to be on stage then they were in for a shock and whatever they did was rather inhumane  and I would not take it lying down.
Impulsively I could've have taken her out of the school because of this. But, I had to prove it to the principal, the teachers and the entire staff that Aarshia was way more than what they expected her to be.
After showing them some home videos of Aarshia dancing with me following the steps, enjoying, putting in the effort I told them that unless they want me to talk to the higher authorities they better do something about this. I don't know how but I was called in the school next day and was assured that Aarshia will perform with the entire class on the stage in the annual function which was due in three month's time.
We had no option but to wait but I still couldn't sit idle. I made sure that Aarshia was rehearsing at home. Even though I didn't know the steps but from her dancing at home, It was apparent that the teachers were sorry for the last time.
The day finally came. Though I tried not having many expectations, but deep inside I wanted her to prove it to the world! This time I didn't call the set of grandparents, just us. It was a huge auditorium with lots of light effects, decorations, video recordings and was kind of overwhelming. Hers' was the third act and I remember feeling a lump in my throat when the announcement of her act was made. And then it all happened.  
It seemed like I was teleported to some magical world where Aarshia was performing with others at the centre of the stage, in the front row! Dancing beautifully, matching every step with others, walking tall, smiling, enjoying every bit of it. I wished the act would never end. It was heavenly. Don't know why, but I still cried at the end of it. The tears of pride, achievement, love and standing up for my daughter!
Its been more than a few year that it all happened and today while seeing Aarshia dancing, I somehow recalled this and thought of sharing it with all the parents and especially the Mothers.
Never underestimate the abilities of your child. Believe in him, believe in yourself. Fight, if need be. and above everything else have GREAT EXPECTATIONS!
You'll be astounded what your expectations can lead to.
here is the link of her video at the annual day.She is the one with a big pink bow on the head.

( It might not play in some countries due to the copyright issue on the song)
P.S. – I am sure most of the parents would have some inspiring incidents to share with all of us here. If you do, kindly do so in comments section or you can also share it on our Facebook page. We would love to hear from you.
https://www.facebook.com/pages/Two-Minute-Parenting/1473981092814814
Comments
comments