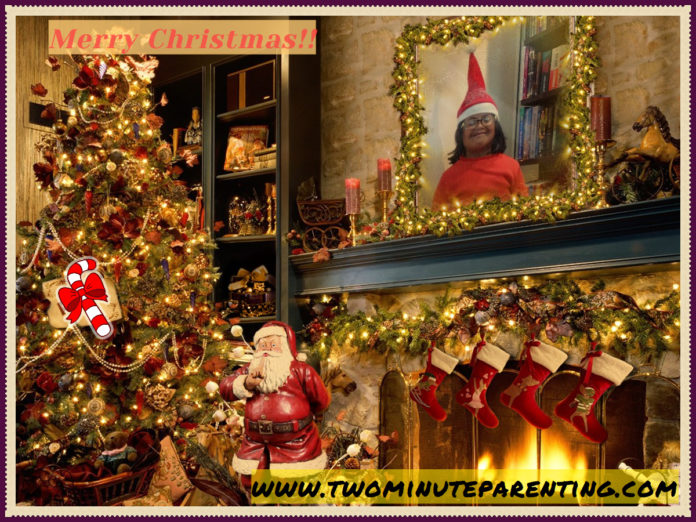 This is the time of the year when everything, and everyone is in celebration mode. Christmas trees are being bought. The lights are being checked, and the gifts are being chosen. Santa has probably got his Red Suit dry-cleaned, his Reindeers ready and elves all done with the toys! How wonderful this all is to see and imagine, and I can totally vouch that the most excited lots for Christmas are our precious little darlings.
While looking at a huge statue of Santa at a mall, I couldn't help but wonder how innocent we were when we thought that the bicycle, the toy train or that video game was brought to us by Santa! I totally bought it year after year until I got to know the real deal! Nevertheless, it was heartwarming that my parents did all that they could to make us believe in the magic.
The magic of love runs across generations and we all do the same Santa trick year after year. It is so heart warming to see the kids unwrapping the gifts and looking at their widest and happiest smiles. Each one of us loves seeing the shine, the sparkle in the eye and the free-flowing laughter of our kids, and I can't help but wonder how we all love playing Santa!  We do that all the time, throughout the year, more so in the case of our children with special needs because they believe in the magic of Santa longer than their typical siblings as they don't get corrupted by the whole suspecting bug early
Personally I love playing Santa and want to give everything that I can, and I can't to my kids. They are the most precious people in my life and no matter what gift, I get them this year. I am happy and proud that I am already giving them things that matter, things which nobody can take away from them. Things like…
Love
Though it's the most overrated, over used, over dramatised word and emotion ever, but I still believe it is the best gift, I or anyone can give to their kids. Just the feeling that they are loved, and they have somebody to go back to no matter how hurt, they are, is the best feeling we can give to our children; special needs or typical. Love makes the world go around and what best relationship can define it then a parent and a child. I also feel that sometimes we don't say it enough and most of the days we are only on instructions' mode, but I want to change that this year. So I will try to give them this gift of huge, unadulterated, massive Love and then some more!
Security
Yes, the security of a house, two square meals, the right to go to a great school (more so in case of my daughter), a warm bed in the cold nights, privilege of going to places and enjoying things, which lot of people in the world don't have. I am glad I can give my children all of these, and I am thankful to Almighty for this.
Friendship
 I am sure both my kids are going to enjoy some great friends and friendships over the years to come, and I am proud of that. I also know for a fact that if and when they will need me, I am going to be there like a friend, without being judgmental. I am going to be there for them, seeing them through their love, break ups, highs and lows. I sometimes wonder how different things are going to be for Aarshia? Will she have the same course of life as my son? Maybe not, but one thing will remain constant for both, and that is that their Mom and Dad are always going to be their best friends.
Motivation
 Have you ever seen a parent of a child with special needs who has just achieved a milestone?  They celebrate it like real christmas. Every single achievement gets celebrated like never before. A lot of people might underestimate the power of motivation but for a child who needs that at every step and the family who provides it day and night get it fully. That first step might've not been possible without that round of claps or those alphabets couldn't have come that early without those motivating eyes.  Every family should take pride in the fact that they are giving this strength and confidence to their children day and night.
Sibling
 Some of the best times of my life were what I spent with my sisters. And even today, we can talk hours about all the great or stupid stuff we did together. They are and will always be my 2AM contact, and I know I can totally trust them with everything, including Aarshia. I am very happy that I am giving this gift to my kids too. They will have a sibling to play with, fight with or make memories with. For my son, this relationship is going to enrich him in many ways including making him an advocate and a sensitive person for life. For my daughter, it will mean; She has a great big brother who loves her the most, and for us parents it means Peace and happiness!
A

more

sensitive

world
 This is probably the best gift, we all parents are going to give our kids this Christmas. We all should be happy that we are not living in 70s anymore. We should be thankful that the Internet is here, and we should definitely be glad that we know people who are looking out for us online as well as offline, and we need to be extremely grateful to be handling our kids, this better and more sensitive version of the world.
Yes, the bargain has not been bad too. The strength, patience, acceptance and a compassionate and encouraging community are some of the things I and other parents have got to, and I am happy for these great Christmas gifts.
That reminds me, what would you like to gift your kids this Christmas?
 Merry Christmas!!
Comments
comments