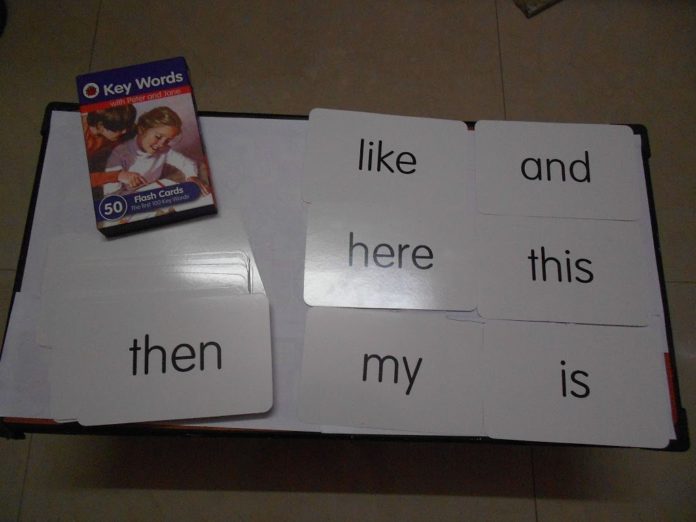 Yes, she can read!
                                                       "What's the use of worrying?
                                                         It never was worth while,
                                                        So pack up your troubles in your old kit-bag,
Whoever said that, surely had Aarshia and Mama in mind. Its a great day today…Aarshia read the book on her own, that too in less than a week. As you all know, I have been trying to teach her for a while and she did read a little book I made for her, few weeks ago. And because that went really well. I thought of pushing her a little more. Was recently told by a parent about " Peter and Jane" Series and how it helped her daughter. So ordered first part of it immediately, along with the flash cards to facilitate learning.
The day the package arrived. I was almost dreaming, seeing her reading the book 🙂
First day went smoothly with Aarshia, getting a feel of the books, touching, looking, page turning, picture describing and keeping them by her side at night:)
Next day was even better, she wanted to read..and it took her only an hour to read the first page . It had 4 new words!!
One week, and she can read more than 20 pages. It is pretty impressive and a lot of credit goes to the book and the way it has been designed. Same words are repeated with one new word after few pages and It worked well for her and because it had also worked for another parent of a child with down syndrome. I can safely suggest it to some of the parents who are starting with reading now. Do get a pack of flash cards along  with the book, as it will not only help reinforcing the words in the book, you'd be able to help her frame different sentences with the cards.
Here is the book..
And here are the flash cards..
This is the video where she is reading her heart out!!
Its time for floating in the air..yet again!!
also found a great resource. An interactive version of the book on youtube.
I know, how important it is for all of us to make an occasion out of  every small success of our child. Somebody has rightly said that the best way to celebrate a moment is to enjoy it !!!
Celebrate your child today..
Aarshia and Mama
Comments
comments