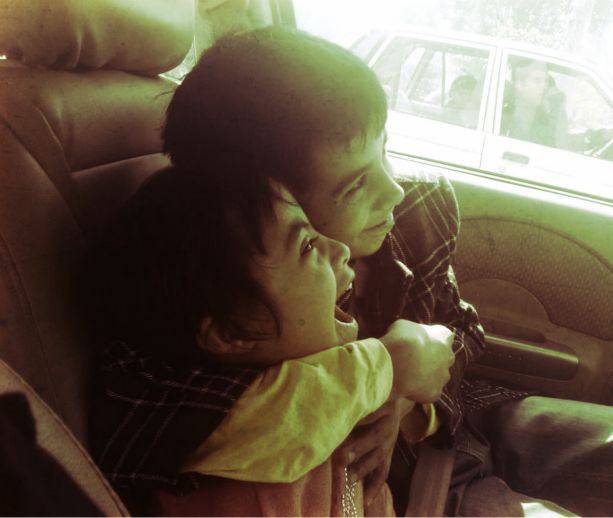 A lot of times the sibling relationship between a 'typical' and a 'special needs' child is perceived and presumed to be all hunky-dory. And just like a mother is supposed to love her child 'no matter what,' a sibling too, is often made to feel guilty if he feels anything but love for his/her brother or sister with additional needs. The relationship between the two is almost always presented with the overflowing love and affection. Something that we have always read on nicely written parents' blogs, i.e. powerful, respectful, uncomplicated and passionate. While the truth is that even if it seems like all 'sugary with love',  it cannot remain consistent throughout their growing up years. Those who think otherwise read too much fiction and need a reality check!
Think about it, can any relationship be all about one emotion? Do we really look close enough or scratch the surface a little and have an open heart to heart talks with our 'typical' children? Do we take it for granted that they are young and do not go through the similar or usual roller coaster ride of emotions that we as parents experience? Do we make them feel guilty for feeling embarrassed for their little sister or brother?
The Truth?
The truth is that a sibling's role is still the least talked about. Even though, they remain that one person who is going to share the longest lasting relationship with our child of special needs, more than the parents! We like to believe that as parents we have it hardest, but pay a little attention and you will be surprised to find out that it's not always compassion, sympathy or love that our 'normal' child is experiencing. They too have concerns which are in some ways identical to what we as parents go through like a need for information, guilt, blaming themselves, loneliness, future concerns and in some ways quite different emotions like peer issues, resentment, sibling rivalry and a pressure to perform.
It also makes a great difference if the sibling is elder or younger to the child with disability. It is because the younger siblings don't know any other way of life; they are born into that situation. But in case of older siblings and especially if there is a large gap, they remember the attention, the time they shared alone with the parents.
From the Horse's Mouth
While reading and researching about this issue, I came across a radio show excerpts on 'Siblings with special needs change childhood'. The show was asking people to share their 'experiences of having a brother or a sister with special needs'. I was all ready to hear some nice emotional sentiments and touching stories of how that experience changed the lives of these callers and how they were eternally thankful for having the brothers or sisters they had, but I had the reality biting me in few seconds when I heard the reactions of a Girl with a special needs brother.
In her own words, 'you know, as we grew up, I can relate too to being kind of ashamed of my brother but also kind of missing out on a brother-sister relationship like my friends had. And that was difficult too. You know, and a lot of attention does go to the child. I can remember coming home from school a lot of times, and my Mom, you know, was somewhere with my brother for some sort of an appointment, and this went on and on for like a couple of school years this way"
I almost felt wet in my eyes. Was it my story? Was I giving too much attention to my daughter with Down syndrome? I started listening again to be sure if that call was just an exception, but there were more calls to follow.
The co-host who was a physician and an author, shared her own experience saying,' I was a teenager. I was probably about 16 or 17. And I was going on a date with a guy I really liked. And he was picking me up from home. And I did not want him to see my brother, I have a younger brother with autism, and I locked up – I locked my brother up in a room so nobody could see him.
This hit me and hit me pretty hard! While we all look forward to the auto default responses like 'the birth of my brother/sister really changed my life and made me a better person' but sometimes these are not the only emotions they have.
Though we all know that resentment or negative feelings are not the only thing our little ones experience. They do learn to accept, have patience and form true bond with their 'special' little brother or sister in the process of growing up. They grow up to be some most compassionate people in this World and that is the reason, it becomes our responsibility to make this transition smooth and this journey memorable for them.
According to a research,   Skotko and Levine (2006) who had combined 33 years of experience of conducting workshops for more than 3,380 brothers and sisters of children with Down syndrome believe that, though siblings have both positive and negative feelings, they generally have more positive experiences.  However, siblings highlighted that the responsibility should be limited.
(https://www.duo.uio.no/bitstream/handle/10852/38502/Sibling-Relationships-in-Families-with-a-Child-with-Special-Needs.pdf?sequence=1)
We all have read multiple lists, pointers and things to 'do' or 'not to do' to have a healthy sibling relationship in the house and the following points may just be an extension of what you already know but it is always good to reinforce, read and figure out if you are really doing what you should be doing…
1.They are typical, let them be
Its easier said than done and we all are guilty of telling our typical kids to behave, not run after or bully the 'special' one. The truth is that a child with special needs who grows up with siblings, with whom he sometimes fights will likely be better prepared to face life in the community as an adult than a child, who grows up as an only child. Similarly we need to think twice before making statements like, don't push, no name calling, why are you embarrassed, you should understand. He can't, etc. Let them misbehave, fight, get jealous and be angry. These all emotions are needed for a sound social development.
2.Teach them humour
We can't always choose what we look at, but we can surely choose how we look at it. Having a child or sibling with disability is a not always a situation people dream about, but it is also not something that is beyond Tragic. Teach them about the importance of humour in life. You are his/ her greatest Role Model. If you complain about the difficulties, problems, challenges and how unfortunate your situation is, then it is more than likely that your child will experience all or more of that. However, if you treat the difficulties as a challenge and your house has more laughter and humor than tears or whining than you sure are giving your child one of the greatest gifts of his life. Share funny tales about your childhood; keep funny names of family members or routine actions. My Son calls my daughter "General N. Bomb" and laughs how she is the most dangerous weapon of all!! So laugh it out and keep it funny because 'Behaviour is not taught, its Caught'!
3. Educate
The common misconception of thinking that our kids are too young to understand 'the disability' have no basis and allowing it to be a secret can prove to be disastrous because the 'typical' child would not understand why his parents are paying all the attention to his brother/ sister. They surely would know something is different but it is always better to educate, try acknowledging his concerns and tell them in the way they will understand. After all kids are always smarter than we think they are and who knows in the process, you might gain a new perspective.
4. Individual attention
We all know how demanding it is for parents of special needs child to take time out and how we keep dreaming of a 48 hours day. But with all our limitations, some individual time with our "typical' child is extremely important. By talking to them you can figure out if there is any growing rivalry or resentment in them. Talk to them, tell them it's alright to feel a certain way and share your own feelings. You can do so after putting the other one to sleep or can go out for walks or movies once in a while and discuss about their school, friends, concerns and dreams, when you are paying attention and not just pretending to pay attention.
5. Introduce them to other siblings
All of those who are reading would understand how comforting it is to know another parent going through the exact same situation. Somebody, who we can look up to, learn from, share our problems or sometimes just compare. But our kids do not have somebody who they can share their innermost fears or issues, regarding their special needs sister or brother. We know the importance of Peer group in a child's life. Also if one or two of these peers are in similar situation it becomes comparatively easy for the child to share their feelings and not feel bad about the way he might feel. As parents, it becomes our responsibility to meet other parents who also have 'typically' developing kids of our child's age and make sure they meet often, if meeting is not always possible they can stay in touch online .There are wonderful groups and websites doing a great thing for siblings so stay in touch and share.
Here is a video from Arc3 siblings which I found extremely informative and insightful from siblings of different ages and different cultural backgrounds. Its almost 14 minutes long but a must watch for all the parents.
Source Credit:
http://wmra.org/post/siblings-special-needs-change-childhood
Comments
comments