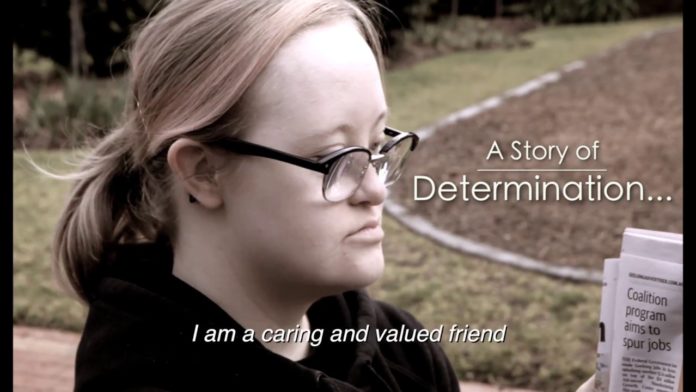 When Cate Sayers, the founder of e.motion 21, first asked me about my interest in being one of the mothers who they wanted to cover for their documentary, I was a little apprehensive since I didn't know what they had in mind and if their vision about the portrayal of disability in media matched mine. But once I got to know that Cate was a mother and had founded this amazing dance and fitness group for children with Down syndrome, I was sold. She wanted to make a short film based on the travels and experiences of her group to Chennai, India for the World Down Syndrome Congress. This project got even bigger when Mitu – another parent and the founder/director of Melbourne Film Festival – and Onir – the national award winning director – joined.  With Dr. Rekha Ramachandran also being on board, it was obvious that this little documentary would touch more hearts than we originally thought.
The documentary also wanted to explore the universalities of emotions without glorifying them and that is a balance which is hard to achieve. It took Onir – the director – almost one full year to speak to these 6 diverse families, understand, and put together their journey for the world to see, without any cues or emotional influence.
Each parent sharing at some point on how their new found purpose had enriched them in the way they had never imagined. As Rumi says, the light enters you at the bandaged place and this film shows those hearts that are bandaged, yet enlightened and lit!
Here is the trailer
Delhi
Apart from winning the hearts, Raising The Bar has won several accolades and awards from all over the world and on 20th of February, it was premiered in Delhi, India. The reactions and reviews were heart warming. Everyone felt connected to the feelings and challenges of the parents. All the invitees went back home more sensitised and aware than they were before. The best part was Australian High Commission coming on board and helping us host the event. Ministers Manish Sisodia (Education Minister, Delhi) and Dolly Chakravarty (Secretary, Ministry of HRD) represented the government. Dr. Rekha Ramachandran flew all the way from Nepal to lend a support  giving us an opportunity to create bigger spaces for sensitisation and awareness.
Here are a few pictures of the event.
Mumbai
The second premiere of the documentary happened in Mumbai, and since it is the home for most Bollywood celebrities, the air around the day was even more palpable and anxious. The paparazzi, the flashing cameras, the over enthusiastic journalists and the love of our young stars.
The evening was engaging and warm. Quite a few famous film personalities joined us in watching this beautiful documentary and took home the message of love and acceptance. People like Rajkumar Hirani, Sohail Khan, Shreyas Talpade, Roshan Abbas, Archana Puran Singh and Parmeet Sethi, Sanjay Suri, Mini Mathur, Tanishtha Chaterjee, and many more came to support us in spreading the awareness. Each one of them was touched and shared how it changed their perspectives towards people with Down Syndrome and how happy they were to be a part of the screening.
A big compliment for all of us. Not only this, the screen writers, studio heads, script writers and many other creative people got a first hand glimpse into a world they were not familiar with and it opened their eyes to the beauty in diversity. After all, "variation is the only invariable" and we were glad to have people understand this through our documentary.  Here are a few pictures of the Mumbai event.
Also read: What Does It Really Take To Accept A Child With Special Needs?
This wasn't all.  With Mitu being our guide and planner, we all were in for a huge surprise when one evening, Malaika Arora joined our girl gang in Mumbai and spoke about her support for all of us! 'Awe struck' would probably be the appropriate word on how we felt meeting her. The visit to The Mecca of Bollywood, The Yash Raj Studio was another highlight of our trip. Meeting the stunning actresses Rani Mukherjee and Sakshi Tanwar, at their shoot, was something we would never be able to forget. After getting all the attention from the paparazzi, the children were bursting with confidence. Such a sight! They were almost ready to give autographs if anyone had asked. Here are a few pictures
All in all, this documentary gave our children a lot. It provided them their rightful place in the media. A new beginning! People who had no clue about disabilities met our children and learnt about Down Syndrome and how it is not scary but just different.
For me the best part was our children's foray into mainstream media which till very recently wasn't even aware of their existence. As a parent it was heart warming to see them enjoying the attention and conducting themselves with dignity and a lot of pride. My only wish, this shouldn't be the only time. We need more people who'd write about our children, make films on them, meet them, befriend them and give them what they truly deserve: The equality!
Comments
comments